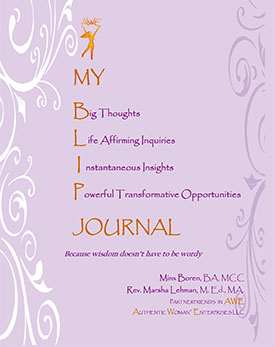 Minx Boren, BA, MCC
Rev. Marsha Lehman, M. Ed., MA
Partnerfriends in AWE
Authentic Woman© Enterprises LLC
A beautifully illustrated and downloadable collection of 52 AWEsome thoughts, AWEdacious questions, and AWEthentic Woman® coach requests, with ample space for personal reflections, ponderings, inklings, and AHAs!!! This compilation of the first 52 E-Blips created by Minx and Marsha is now available as a downloadable 8½ x 11″ journal with added instructions and ideas. Rip open the envelope of your self-discovery, flip through this journal of possibility, slip easily into sacred space, and dip into your inner cauldron of creativity. BLIP blissfully into your Authentic Woman® self.
Price: $10.00; Instant delivery via Adobe Acrobat (PDF) Download.