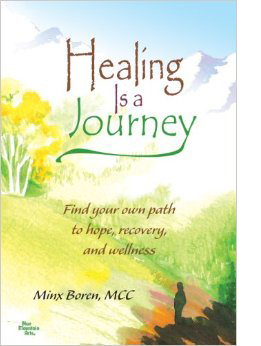 Everyone's path to healing is different, and sometimes the journey can seem more than we can bear. When this happens, it's often life's smallest blessings that bring the greatest peace – things like a cup of honeyed tea, the warm embrace of a loved one, or an inspiring story or verse that sparks feelings of hope and happiness.
Minx Boren has coached hundreds of clients and facilitated countless group conversations to empower men and women to reach beyond their comfort zones in order to live the most joyful and fulfilling lives possible. Through her reflective essays and poems, she emboldens each of us to confront our fears, make wise choices, be present in every moment, and accept offers of kindness and support when they are given.
Wherever you are in the recovery process – whether you are just starting out or well on your way – Minx's words will help you to see that it's only when you take the time to honor and nurture yourself that you can keep moving forward and become whole again, in the fullest sense of the word. From inside cover
---
Review from Spirited Woman:
Spring is a wonderful time for renewal and feeling energized. On our Spring Top 12 Book Pick list, we've included an array of gifted authors to help inspire and uplift you. We urge you to support these spirited talents! Save this list all year round! A great book resource for you..
HEALING IS A JOURNEY – by Minx Boren MCC, is about our ongoing quest for well-being and wholeness. It's about staying mindful and vitally alive while learning from the inevitable losses and reverses every human endures. Coach Minx uses evocative poetry and prose to address topics ranging from extraordinary self-care to deep connection, from getting unstuck to thriving through adversity.

---
healing is a journey
sometimes long and slow
other times undertaken in big
determined strides
across a sometimes daunting
other times confusing landscape
and yet in truth
there is no actual destination
no momentous endpoint to be reached
where one thrusts a flag into the ground
and declares the exploration to wellness
complete
at least not as long
as one still draws breath
and navigates the sometimes quiet
other times tumultuous seas of life